The ever-increasing amount of both personal and sensitive company information on our mobiles make it vital that they are properly protected and that data and access to company systems doesn't fall into the wrong hands.
Here are 5 tips on how to protect your phone and the data contained on it.
1. Lock & Protect Your Phone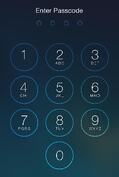 It may seem obvious, but be sure to switch on your phone's passcode/lock feature. While a 4-digit code on IOS or short pattern on Android isn't super-secure, it is better than not doing it at all. As an IOS 4-digit passcode only has 10,000 combinations, and the fingerprint smudges on Android devices can often aid a thief in guessing the unlock pattern used, a more secure solution is to switch on password authentication on your phone. While it is a detriment to usability, it does provide a much greater degree of protection.
When adding widgets to your phone's Home Screen, you should be aware that they can often display information while the phone is in locked mode. So, be sure not to add company mail accounts or social media accounts to your Home Screen notifications if you don't want that information to be freely available to anyone looking at your phone.
Protect access to the data on your phone by activating remote wipe functionality. This will allow you to remotely delete the information on your phone should it be stolen. Of course, make sure you have a recent back up so you can restore the data on the recovered or new phone.
2. Limit App Power
Don't just accept default permission requests by apps. Does the app you're installing really need access to your contacts or to read your texts? Especially with sensitive business information on your phone, it's important to be aware of what apps have access to what data and ultimately what it is being used for. If in doubt, refuse all permission requests from apps and add them back one by one as the need for them becomes apparent.
Jailbreaking a mobile is often used to carrier unlock a mobile or gain access to the supposed Holy Grail of free apps. Be aware though that if you jailbreak your phone you are removing most of the phone's in-built security and making your mobile hugely susceptible to malware. It is simply best not to do it, and if you have already, it is a good idea to restore your phone back to its factory settings. If you are intent on jailbreaking, be especially wary of apps you download and know that they may have unrestricted access to your data, whether that be your contacts, email or your account passwords.
3. Keep up-to-date
Making sure your mobile's Operating System and apps are the latest versions will ensure you are protected against the known vulnerabilities.
Installing anti-virus software on Android devices, and keeping it up-to-date, will help protect your phone against malware.
4. Avoid Unsecured Networks

Accessing a free WIFI network when your 3G signal is poor is very appealing, but in most cases you don't know who owns that network, who is eavesdropping, or what information is being collected about you. If you have access to a company VPN then it is generally safe to hop onto unsecured WIFI networks as your data is locally encrypted and kept away from prying eyes. However, if you don't have use of a company VPN, it is best to avoid using unsecured WIFI networks and stick to using your 3G connection, even if it is slower.
5. Be Wary of Smishing!
While it may sound like an invented phantom cyber threat, smishing is the process of using SMS messages to phish for your passwords and personal details. Fraudsters will send you a text message, perhaps purporting to be from your bank, which will ask you to verify your bank details in order to stop your account being closed. The SMS message will proceed to link you to a fake site that will then capture your account credentials when you try to log in.
Whether it's in an SMS, an email, or a message from a social media app, never click any links and proceed to enter your account credentials. If you think it might be a legitimate message, contact the organization to verify, or visit the website directly and log in as you normally would.
Following these 5 pieces of advice will help protect both personal and business data stored on your mobile. Having a mobile stolen that is unprotected and logged into the company Twitter account, or has access to the company email for example, is a nightmare scenario. These practical steps will help restrict access to that data should the worst happen, and reduce your exposure to the array of scams and malware designed to steal your valuable personal and business data.

My1login are dedicated to help you stay safe online. To find out more on how we can help you, visit our site: https://www.my1login.com