Last week we attended our first Dublin Web Summit where the my1login Password Manager joined the ranks of the world's 100 leading technology start-ups after receiving an invitation to join START, a highly-curated, invitation only group of the world's most exciting start-ups and being shortlisted for the Spark of Genius awards.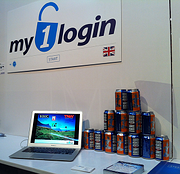 Ours hosts, Paddy Cosgrave and the team, did a fantastic job of organizing the event, making it surely of the best Web Summits there has been.
What a great place for meeting investors, media, and prospective customers and of course for the opportunity to sample a pint in the home of Guinness. Scotland's other national drink also made an appearance and was certainly welcomed by all those who attended the my1login stand the next day.
Congratulations to all of our fellow start-ups that made the cut and were on the Spark of Genius shortlist and especially to the winners 'Smart things'.
We can't wait to go back next year.