My1Login are finalists for the Best Identity Management Solution at the SC Awards Europe 2020!
We are delighted to be shortlisted as finalists
for Best Identity Management Solution at this year's SC Europe Awards.
The SC awards honour and recognise excellence and innovation in the cyber security industry. They are the gold standard for security products and professionals and it's an honour to be shortlisted as a finalist.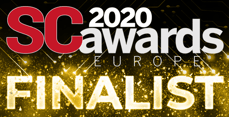 My1Login's CEO, Mike Newman, comments "It's fantastic to be a finalist for the Best identity Management Solution. This award recognises the success we have had in selling to large enterprise organisations and is deserved recognition for all the hard work by the excellent people we have here at My1Login".
The finalists for the SC Awards are decided upon by a highly respected panel of judges and normally this concludes with a prestigious awards ceremony in London in June. This year, due to the current situation with COVID-19, SC Magazine have taken the decision to cancel this event and instead the winners and highly commended results will be announced online on the SC Awards Europe website and Twitter channels.
We will let everyone know how we fare. In the meantime, please be safe, be kind and we can get through this together.