Our CEO, Mike Newman, will be speaking on 26th April at IP Expo Manchester. My1Login will also be exhibiting at the event which is being held at Manchester Central, Manchester from 26th - 27th April.
Mike Newman, My1Login CEO, Speaking at IP Expo
Our CEO's presentation is entitled: IAM - Want to go from Zero to Rollout in 10-Days?
If you're daunted with where to start with IAM, this presentation by Mike is a must attend. Are you concerned about any of the following topics?
Managing access to thick-client, legacy app as well as cloud
Shadow IT and user adoption of unknown cloud apps
GDPR and compliance requirements
Insider Threat and ex-employees access to systems
Phishing, weak password practices and data breach risks
Escalating password reset costs and downtime
Mike's presentation will address the above and outline how your IAM can be deployed from a standing start to all users in a 10-day plan. You can see Mike speak at 3pm on 26th April 2017.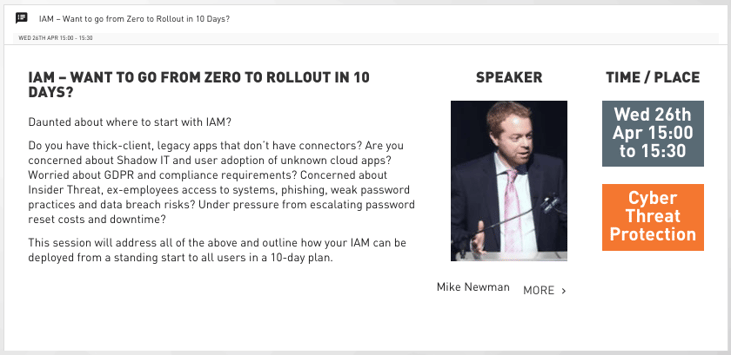 Exhibition Stand
W746

at IP Expo Manchester

The team are also exhibiting and our stand will have some familar faces, so please feel free to come by and say hello to Norman, Eamonn, Molly, Helen and Fran. Our CEO, Mike, will be on the stand periodically, so if you'd like to speak to him personally drop me an email and I can arrange that.

We're a friendly bunch and will be delighted to answer any questions you may have on Identity & Access Management. Not only are we a wholly UK-Based IAM Provider, allaying safe-harbour concerns, we also have key technical differentiators, such as the ability to provide Single Sign-On for thick-client, legacy desktop apps and the ability to automatically discover and integrate new web applications. Pop by stand W746 and put us to the test!

If you want to visit our stand or attend our talk you can use this link to take advantage of free tickets (Instead of £35 at the door) to attend IP Expo Manchester and join us. We look forward to meeting you!