Our CEO, Mike Newman, will be speaking on 5th October at IP EXPO Europe. My1Login will also be exhibiting at the event which is being held at ExCel London.
Mike Newman, My1Login CEO, Speaking at IP Expo Europe
Our CEO's presentation is entitled: Eliminate GDPR fines, Phishing and Shadow IT - With One Move!
If you're concerned about GDPR, Shadow IT, Phishing, or the plethora of password-related security and productivity challenges then this presentation by Mike is a must attend. Topics covered include:
Critical Considerations for your IAM
Case Study of a Highly-Regulated Organisation and Business Benefits
6 Take-Away Actions
If you are looking to implement an IAM solution, check out Mike's presentation to avoid the pitfalls. Learn why My1Login's client-side encryption architecture is market-leading and how we provide Single Sign-On for applications that other vendors don't, e.g. Flash apps and thick-client, legacy apps. You can see Mike speak at 11.00am on 5th October 2017.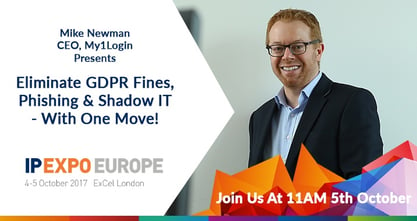 Exhibition Stand A9 at IP Expo Europe
The team are also exhibiting and our stand will have some familar faces, so please feel free to come by and say hello to Norman, Eamonn, Ken, Jodie, Hayley & Jessica. Our CEO, Mike, will be on the stand periodically, so if you'd like to speak to him personally drop me an email and I can arrange that.

We're a friendly bunch and will be delighted to answer any questions you may have on Identity & Access Management. Not only are we a wholly UK-Based IAM Provider, allaying safe-harbour concerns, we also have key technical differentiators, such as the ability to provide Single Sign-On for thick-client, legacy desktop apps and the ability to automatically discover and integrate new web applications. Pop by stand A9 on 4th & 5th October and find out just why My1Login was cited as a Global Leader in Identity Management by CB Insights and is currently shortlisted for 3 industry awards: Identity and Access Management Solution, Security Excellence IAM Award & International Contribution to Cyber Security.
If you want to visit our stand or attend our talk you can use this link to take advantage of free tickets (Instead of £35 at the door) to attend IP Expo Europe and join us. We look forward to meeting you!