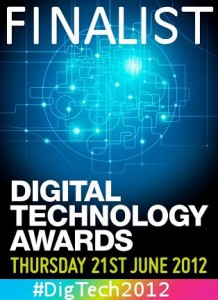 my1login's delighted to be nominated for the 'Best New Product or Service' in the 2012 ScotlandIS Digital Technology Awards.
Michael Newman, my1login's CEO says: "We're honoured and thrilled to have been shortlisted for this award. It's been an exciting couple of months and to have been recognised by ScotlandIS is fantastic. We wish all the other nominees the best of luck and look forward to the ceremony."
Since officially launching on 1 March to the UK and US markets, my1login has generated strong initial traction. The company also secured $1,000,000 funding in April to accelerate growth and support its global expansion.
The award ceremony will be held on Thursday 21 June 2012 at the Grand Central Hotel in Glasgow. Showcasing excellence within Scotland's growing and dynamic digital and technology industries, the event rewards the pioneering innovation, expertise and ambition of a range of companies.
Designed to be a single secure point of entry to every site the user logs into on the web, my1login enables users to access their passwords at anytime and from any device, with only one login, and is the first password manager to fully integrate a social media dashboard. It makes online lives faster, easier and more secure.
There is a growing demand to increase safety online. And, with the current trend towards mobility, outsourcing, cloud and disposable devices, login problems look set to become a greater issue. my1login's highly encrypted 'vault', where users can manage, store and share logins, provides a simple, safe and free solution.