The team at my1login are delighted to announce that we have recently been cited as one of the best password manager's on the market by PCMag.com.
Our CEO, Mike Newman comments "The increasing use of Software As A Service is driving business end-users to manage and share an increasing number of business passwords that are not compatible with traditional Single Sign-On solutions.
As a result, employees are using their own systems and practices to manage corporate passwords leading to significant risk and unnecessary cost to the business. We are delighted to have been recognised by PCMag as a global leader in solving this problem"
PCMag's Lead Security Analyst commented on my1login's technology advantage in that "You can use it with any browser, under any operating system"
Newman continues "Our technology means that employees only need one secure login to access business passwords whilst management benefit from a full audit trail of password security that enables my1login to protect businesses against 65% of the causes of data security breaches."
Recent figures from Verizon show that 40% of security breaches are a result of hackers guessing, cracking or re-using passwords and 25% of breaches are caused by phishing. my1login's solution tackles both issues directly.
my1login is designed to prevent the use of weak passwords and weak password practices, where employees use the same password across multiple websites, and also to protect businesses against serious financial and reputational damage resulting from a hacking incident.
Mike Newman,CEO explains: "my1login protects businesses of all sizes from the growing threat of online crime by providing a password management solution that allows businesses to manage and securely share passwords with colleagues and teams. The PCMag endorsement is one of the most trustworthy seals of approval for a technology business."
my1login has developed the service in response to growing demand for an alternative to traditional single sign-on (SSO) solutions which are prohibitively expensive and are difficult to integrate because of the need for third parties to opt in. Conversely, cloud-based my1login needs no integration so can be used by departments without requiring any IT involvement.
About my1login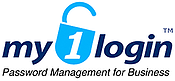 my1login has been protecting passwords in the cloud since 2007. Its business password management solution is suitable for businesses of any size.
my1login solves the problem of securely remembering, managing and sharing business passwords for teams and colleagues. It works in conjunction with existing business passwords, allowing employees to access business web sites with just one login. Since employees no longer have to remember passwords, they can all be made strong and unique, increasing business security.
Unlike traditional single sign-on solutions, my1login is cloud-based and can be set-up across an organisation within five minutes as it needs no integration or application interfaces with a business's existing IT and software systems.
my1login helps a business reduce corporate risk by increasing password security, while minimising downtime and improving productivity through less password resets and forgotten logins.
my1login Security
my1login uses complex, multi-layered encryption processes so that not even my1login employees can access users' data. Business accounts are protected using two-step authentication (password and key phrase) making its default level of security the most secure of any password manager. Business passwords are encrypted client-side using 256 bit AES, then further encrypted using 256 bit SSL before being sent to my1login for storage. 1024 bit RSA public/private key cryptography further encrypts AES keys to enable secure sharing and central distribution of specific passwords where required.
A business user's key phrase encrypts access to their business passwords using AES 256. It's impossible for anyone to decrypt and access that stored password data without the key phrase, and it would take the most advanced computers millions of years to try out every possible permutation of a reasonable length phrase.
my1login's datacentres operate within an ISO27001 accredited secure environment.
my1login software also offers extras such as password security reports and a password generator that creates super-strong passwords for businesses improving their online security.
Find out how my1login can protect your business.