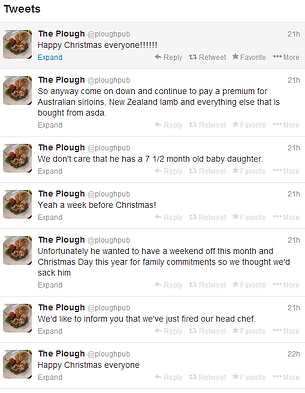 Head chef, Jim Knight, was fired from The Plough in Great Haseley, Oxfordshire over a dispute about Christmas rotas. The disgruntled chef decided the best way to vent his anger was on the company's twitter account.
Knight, posted messages on Sunday saying "We'd like to inform you that we've just fired our head chef.
"Unfortunately he wanted to have a weekend off this month and Christmas Day this year for family commitments so we thought we'd sack him."
Not happy with making the management come across as a real life Ebenezer Scrooge. Knight, claimed that the pub have be deceiving their customers over its food sources.
"So anyway come on down and continue to pay a premium for Australian sirloins, New Zealand lamb and everything else that is bought from Asda."
The messages have been retweeted thousands of times, causing great embarrassment for the pub.
This is not the first time that an aggrieved employee has sought revenge on their employers over their dismissal. HMV had to deal with a similar situation when their staff hijacked the company twitter account to broadcast the mass firing of 60 employees.
Let it be a warning to other companies, employees will embarrass you if you give them the platforms to do so. It is important to make sure that if you are firing people, you close their accounts and restrict their access to any company information.
My1login is a business password manager that allows admins to share passwords to workgroups but also quickly cease individual user access to logins when necessary, which immediately prevents from these situations arising. The password manager has further privacy and security benefits by allowing admins to restrict the visibility of passwords. Employees will have access to company systems without actually seeing the passwords that protect individual accounts. This provides the ultimate protection from employees seeking revenge and posting messages that can damage the company reputation because they don't actually know the password themselves.
Although my1login can protect against reputational damage, we do not recommend sacking your head chef two weeks before Christmas because he wants a few days off.
Find out how my1login can protect your business.
Further Reading