My1Login wins the IAM Award at the Computing Security Excellence Awards 2020!
My1Login is delighted to announce it has won the 'IAM Award' at the prestigious Computing Security Excellence Awards 2020. These awards celebrate the achievements of the IT industry's leading security companies, solutions, products and personalities.
The awards were decided upon by a panel of cyber security judges who highlighted My1Login's ability to run "silently" in the background meaning no user training required and far greater security for the enterprise.
Video: My1Login Announced as Winner of IAM Award
Paul Edney, Head of Cyber Security at Howdens Joinery, explained on behalf of the judging panel:
"This year the world has shifted towards remote working in dispersed locations making identifying users and managing their access to critical systems more important than ever. We wanted to see a tool with a mixture of Identity and Access Management functionality that was easy to integrate into an existing network and didn't stand in the way of people's daily work".

Paul continued "With great pleasure I am here to announce that the winner of this category is My1Login. The ease of implementation here is really impressive, enabling Single Sign-On to be rolled out to every business application, with minimal training required and operating silently in the background is a huge security boost."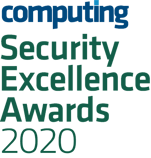 My1Login's CEO, Mike Newman, commented "It is fantastic to see My1Login win the IAM Award at the Computing Security Excellence Awards 2020. To be recognised as the Best IAM solution is a huge accolade for My1Login and testament to all the hard work of our team. As organisations face the challenges of an enterprise perimeter that is now defined by users' homes and devices, managing access and identities has created new challenges for organisations. We are delighted to play our part in helping our customers ensure the right people have access to the right systems at the right time, and helping those organisations eliminate vulnerabilities whilst reducing friction for the end user".
What is My1Login?
My1Login is the UK's most secure, most widely-compatible, award-winning enterprise Identity & Access Management solution that enables organisations to mitigate password-related cyber-security risks, control user identities and help meet critical compliance obligations.
What Do We Do?
My1Login solves the problem of cyber-security risks created by the increasing sprawl of corporate user identities, usernames and passwords by providing Single Sign-On for all web and Windows desktop application that is seamlessly linked to the user's directory login.
Critical applications can be protected by auto-generated, strong, unique passwords that can be hidden from users, eliminating phishing. My1Login's auto-detection of applications being accessed further reduces the attack surface by identifying Shadow IT risks.
Why My1Login?
Client-Side Encryption - My1Login has no ability to access customer data since this is encrypted client-side, the encryption keys remaining securely inside the perimeter of the customer's enterprise network.
Zero User Interface - Can be deployed to run in the background meaning no change to user behaviours and no training required.
Most Widely Compatible SSO - SSO that is seamlessly linked to the user's directory login for web apps, virtualized apps and even Windows desktop apps without requiring APIs.
Rapid Deployment
My1Login is cloud-based Identity As A Service (IDaaS) and can automatically discover and integrate new applications, meaning rapid deployment which accelerates time to value.
My1Login is a UK leader in protecting against enterprise cyber-security risks with its Identity and Access Management solution.
Book a Demo
Want to see how My1Login can help you solve the problems of weak passwords, identity sprawl and data breach risks? Book a Demo with one of our Identity Experts.